Built for Teams
Schedule tasks and relate them to your contacts or deals. Two-way syncing with your Google Calendar.
A Solid Overview of Tasks & Appointments
Instant Actions
Your Tasks view shows what needs to get done to move deals forward. You can follow-up with customers through email with one click. Complete, postpone, or add notes instantly.
Filter For Clarity
Use your filters to focus your efforts on the same day tasks and plan your day with a prioritized to-do list. You can filter by status to see overdue tasks or by assignee and know your teammate tasks.
Task Reminders & Notifications
Receive a daily email with a list tasks due on the same day. We also add reminders to your tasks page when a deal passes its expected closure date and when an invoice is overdue.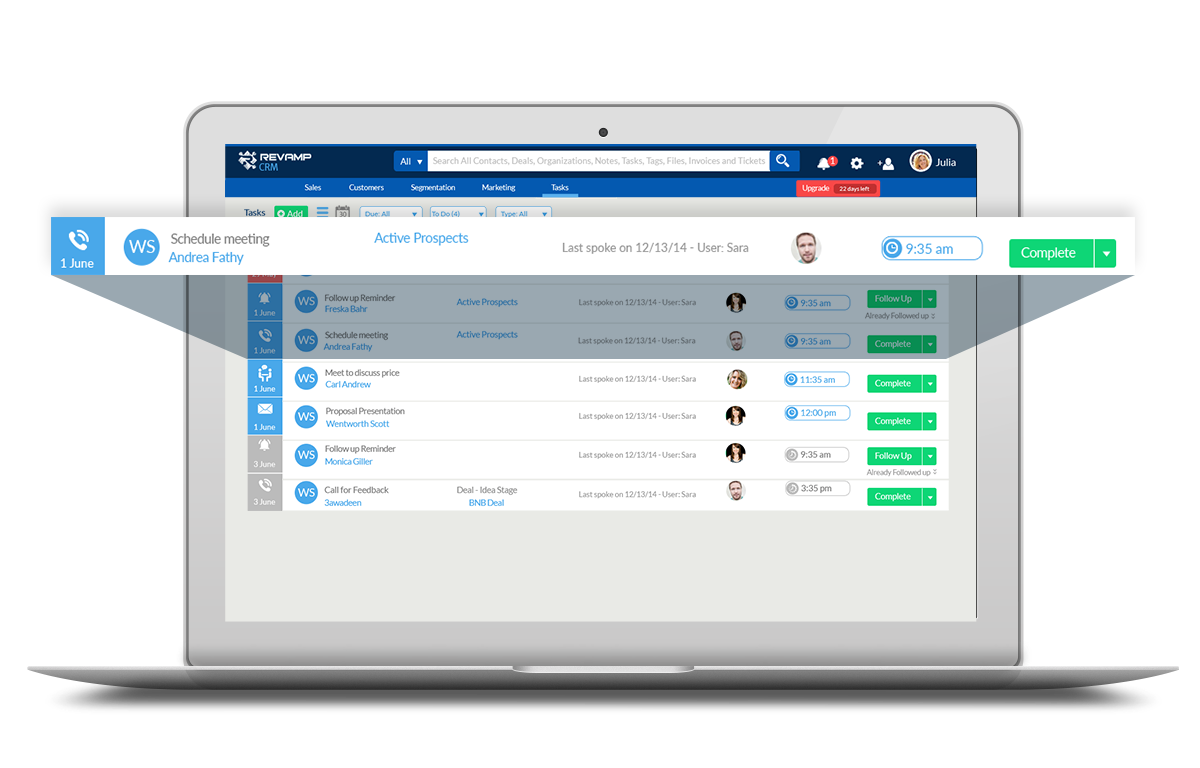 Task Types
Schedule different types of activities, an Email, Call, Lunch, Meeting Task or a Deadline.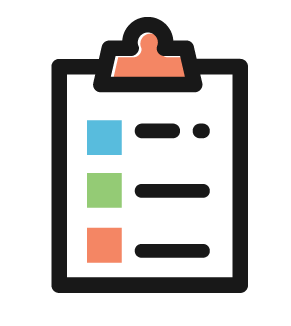 Color Code
Know a task status at a glance with our color coding, Blue is today's tasks, Red is Overdue, Grey is upcoming.
Tasks Assignee
Create and assign tasks to other team member in seconds.
Track Tasks inside Sales Pipeline
Keep track of Deal's activities and tasks at a glance. You can detect deals with no assigned tasks and schedule one without leaving your tasks view. Deals with overdue tasks will alert you to take proper action.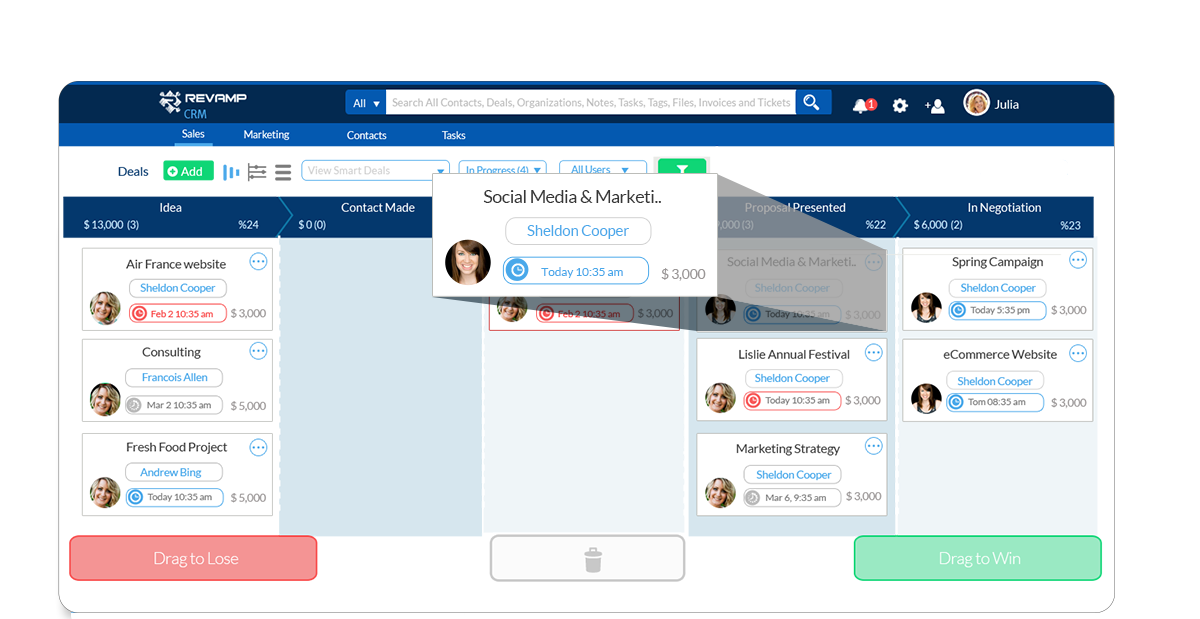 Track Task inside Contact Profile
Activity Timeline
The activity timeline in your contact profile gives you invaluable insights about emails and notes in a chronological timeline view.
Last and upcoming Task
Because the very last & upcoming tasks are so important to be known to keep communications on the right track, we highlight them for you. You can also add, complete or edit tasks from inside the contact profile along with viewing a list of tasks related to this particular contact.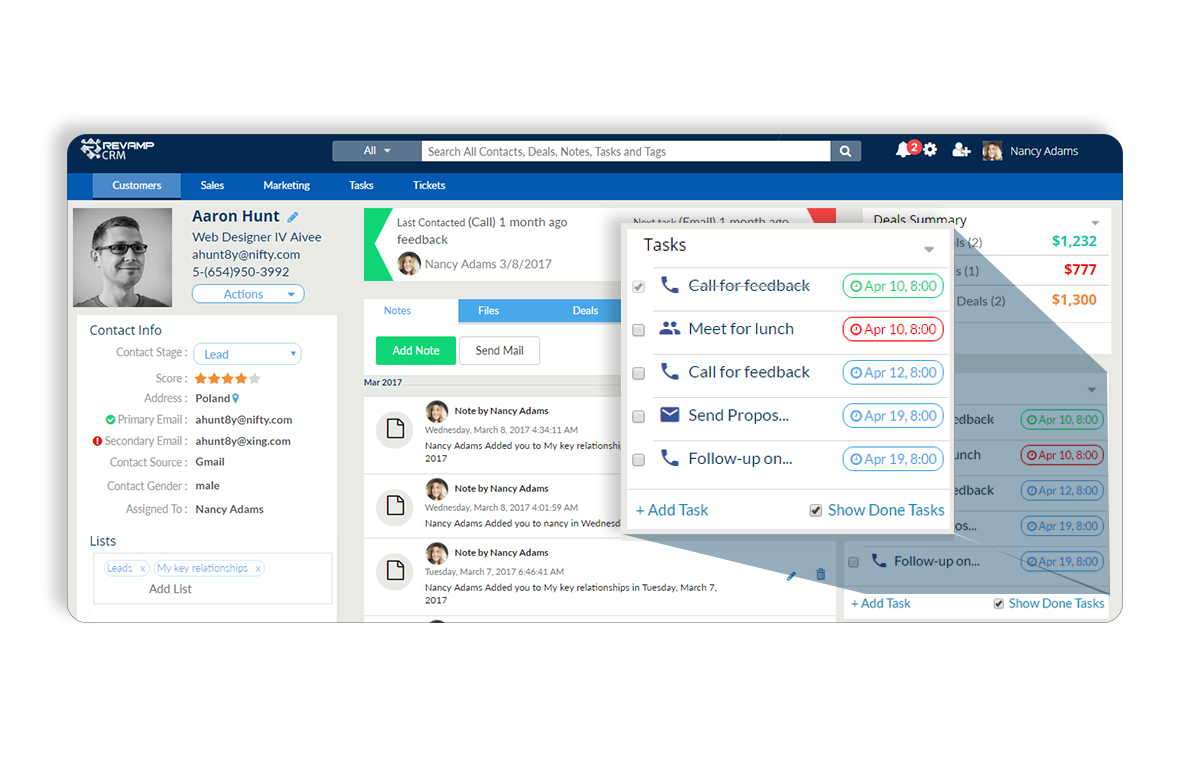 Google Calendar Two-Way Sync
Keep your days flowing smoothly by connecting your Google Calendar to your CRM Calendar, that way you'll never miss an appointment or schedule two appointments at the same time.